Nokia 9, 8, 7, and 2 chipsets have allegedly leaked online
14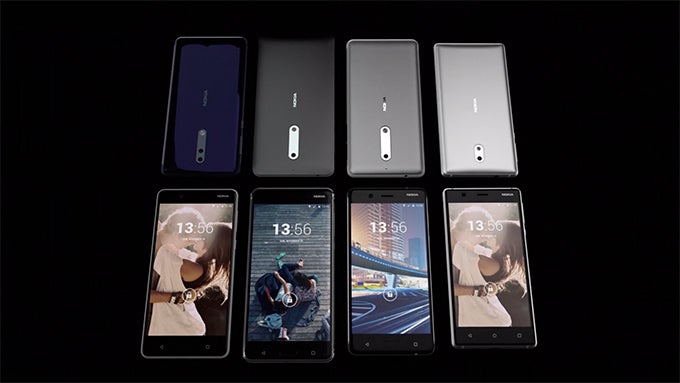 After first hearing
the semi-official confirmation
of upcoming new smartphones from HMD Global under the Nokia brand name, we've been expecting to start seeing more concrete info about the devices themselves — sure, we've enjoyed
a fair amount of speculation
before, but all of it is many months old now, and often contradictory.
And now, we've finally heard a fresh new rumor about the entire upcoming Nokia device lineup for 2017 — namely, their respective chipsets. It isn't much, but it still gives us a fairly good idea of which price segment each device will be targeting:
Nokia 2 – Snapdragon 212 / unknown Mediatek processor
Nokia 7 – Snapdragon 630
Nokia 8 – Snapdragon 660
Nokia 9 – Snapdragon 835
First off, the Nokia 2: this is a device we haven't really heard anything about up until now, and one of the reasons may well be the lack of clarity regarding its chipset. In any case, this device seems to be positioned on the very low end of the spectrum, considering the 212 debuted all the way back in 2015.
The 7 and 8 have often been lumped together in past rumors, to the point where both were said to be powered by the Snapdragon 660. This isn't actually the case, according to this leak, but the 630 and the 660 are both decidedly mid-range SoCs, though the latter
has proven itself
to be quite capable in processing power.
And lastly, the Nokia 9 is, as expected, a top-tier phone with a Snapdragon 835 ticking inside. This corroborates
previous info we've had
, which also included claims that the device will feature 4 (or maybe 8?) GB of RAM, a 13 MP dual rear camera, and a 5.3-inch display with a 1440 x 2560 px resolution.
And while the original source of this leak (a Chinese forum post) is highly questionable,
Nokiapoweruser
claims to have contacted its independent sources which have confirmed the info, so we're giving it a pass.
Unfortunately for those of you looking for more detailed info about yet-to-be-announced devices à la Samsung, you're out of luck: the Nokia 9 is so far the only one we know more about (and we've also seen it in live photos, as shown above). So cherish the element of surprise while it lasts, as there's little doubt we'll be seeing more of all four of the devices in the near future.