Nokia 305, 306, 311 leak out, might bring overhauled Series 40 or Meltemi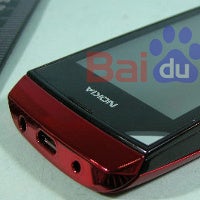 Nokia has seen its sales take a deep plunge in the smartphone segment, but when it comes to feature phones it also needs a boost in its lineup, and that's what the newly leaked
Nokia 305, 306 and 311
might do. Nokia is allegedly gearing up for an event tomorrow in Pakistan where the three new handset will get officially announced. The phones are said to feature an all-touch interface based on Series 40, but with some very interesting additions.
People who have seen the platform say there will be a lot borrowed from MeeGo, with three home screen, a drop down notification shade and no separate menu button. One of the three home panels instead will host the app drawer, another will allow quick access to contacts and websites and the third one takes care of media like the music player, radio, and phone.
Could this be Meltemi?
We don't know yet, but all clues point to either this or a big refresh of Series 40.
As to the models themselves, the Nokia 305 and 306 look like very similar, possibly differing only in dual-SIM card support. The Nokia 311 seems to be the higher end model among them, with a more capable camera. Here's what the rumor mill says about the models:
Nokia 305 dual-SIM, 2MP
Nokia 306 single-SIM, 2MP
Nokia 311 WCDMA/WIFI, 3G, 3.2MP, multitouch display, 1,000mAh battery
The specs don't look hugely encouraging, but don't forget that the devices are affordable, not aiming sky-high for technical innovation. Check out the pictures below, and stay tuned - tomorrow we might have the final details.
Nokia 305, 306, 311 leaked pictures