NoPhone is a full-time business in New York and is offering a discount for the vaunted device that does absolutely nothing
11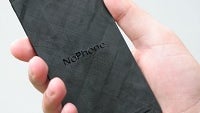 It started as a joke. Then it became a mini-crowd-funded phenomenon. Now NoPhone, LLC is an on-going concern based in New York City, and the company is hitting the market with a sale on its product for a limited time.
Last summer
, the NoPhone was just a gag idea, give someone a partial sensory satisfaction of holding a piece of plastic in their hands, or keep something in a pocket. It could serve as a decoy for would-be thieves, but in reality, the NoPhone does nothing, but it makes a great gag gift.
Sensing they were on to something, the guys behind NoPhone
decided to capitalize
on the idea and crowd fund a batch of these plastic bricks. They
blew through their goal
, and shipped thousands
for the holidays
.
We like to poke fun at the idea, but NoPhone's new online store outlines the idea succinctly, "The idea of the NoPhone spawned from a night at a bar where we regularly hang out and socialize. And by "socialize", we mean stare at our phones and occasionally look up from our screens to order another round, which is the norm nowadays."
Van Gould, Ingmar Larsen, and Ben Langeveld, have a point. It is no secret that our smartphones have removed something while making us more connected. Our very own
Nick T. took a challenge to part
with his beloved
Samsung Galaxy S5
for a couple weeks, relegating himself to a simple feature phone in the meantime. He survived the affair no worse for wear, but it begs the question if a NoPhone would have helped at all.
To celebrate the online store launch, NoPhone is offering 20% off orders until March 15th. Just use discount code "20OFF." You can get a NoPhone as a basic slab of plastic, or your can get an upgrade with has a "selfie mirror." A single NoPhone is $12 before the discount, a selfie mirror NoPhone is $18. The per-unit prices decrease slightly as quantity orders increase.
To get your NoPhone, see the source link below, and don't forget the discount code: 20OFF (that is two zero, "OFF").
source:
NoPhone