Remember the NoPhone? Well you might actually be able to buy one
11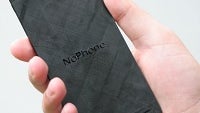 It is the most secure handheld device yet, the NoPhone. It requires no upgrades, has no camera, no data connectivity, and it doesn't even make phone calls.
It does look like a smartphone though, and
when we first shared the NoPhone with you
a few weeks ago, we believe our assessment was fair in calling it "as secure as can be."
What possible use could the NoPhone serve? Well, it can be a pacifier for when you yearn to hold a gadget in your hand, but cannot afford to be distracted by anything. It could also serve as a decoy if you place it in your pocket and a thief goes for you NoPhone instead of the real thing (we're just not going there). It can't really do anything else, but at least you don't have to worry about breaking it and losing data.
Seriously, the guys that came up with the original joke originally had no intentions beyond just that, a joke. Apparently a lot of people have expressed interest in getting a NoPhone so they have gone to Kickstarter to fund an ambitious run of NoPhones.
How much might a cold piece of plastic that does absolutely nothing cost? More than you might think. Try €20 ($26, £16), plus €6 ($8) for shipping outside the Netherlands. €50 ($65) will get you one of the first 50 NoPhones, and €90 will get you 5 NoPhones. There is even a €5,000 ($6,500, £4,000) tier, where the founders will hand deliver your NoPhone to you, no matter where you live, give you a list of "NoApps," a certificate of authenticity, then take you out to dinner. Deliveries should be made in December.
The goal is audacious, no doubt. This team from Amsterdam wants to raise €68,000 ($90,000, £54,000) in the next 30 days. We hope prices like that don't make the NoPhone a NoGo. Then again, the NoPhone might turn out to be a great gag gift.
source:
NoPhone
(Kickstarter)