Imagine that: The NoPhone will become a reality
25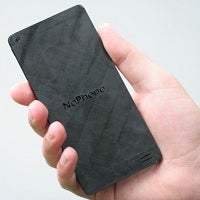 If you thought the novelty or prank value of the NoPhone was good, but weren't willing to put any money into the idea unless it was going to be sure thing, you can go ahead and get on board.
The NoPhone gang have garnered enough
support on Kickstarter
to make what is arguably the most secure handheld device in history. The NoPhone will provide that physical "need" some of you may have to hold a phone without putting your real smartphone at risk.
The NoPhone will be shatterproof, waterproof, and require no upgrades. In fact, you never need to charge the battery because the NoPhone doesn't do anything - that and it doesn't have a battery, so there's that. Just pick it up and hold it.
Is there any practical use to the NoPhone? Well, yes. You could use it as a decoy to thwart thieves in high-theft areas. It also makes a great gag gift. You can affix a mirror to it and you have a real-time selfie device,
"Share selfies with your friends if they're standing behind you. Add a verbal hashtag by syncing your brain and vocal cords."
There are plenty of tiers still available on NoPhone's Kickstarter page with about a week left in the campaign. Since everything will be 3D-printed, it is a near certainty that this will prove to be one of the few crowd funded projects to actually deliver on time in December.
source:
NoPhone
(Kickstarter)