Interest in Apple's new iPhones near all-time lows at Verizon, AT&T and Sprint
31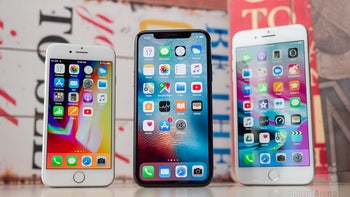 Armed with quarterly customer survey reports it's been doing since 2013, research firm Cowen sounds the alarm on iPhone sales going forward, based on its latest Q4 questionnaire. It probed Verizon, AT&T and Sprint customers, in the all-important postpaid cohort, and just 80.5% of iPhone owners there indicate that they will be getting another one when upgrade time comes.
While that kind of interest may sound high, it's actually among the lowest numbers in the history of Cowen's surveys, as, just for comparison, curiosity in upgrading to newer iPhones was 87.6% in the previous quarter. The research firm's findings actually correspond with Ming-Chi Kuo's recent memo to clients that
lowered his new iPhone sales predictions
significantly. Cowen's analysts attribute these historically low numbers to the price of the
iPhone X
, and the underwhelming changes in the
iPhone 8
or
8 Plus
, compared to their predecessors:
The moderating interest seems to reflect the higher price of the iPhone X and/or lack of compelling new features as the new iPhones collectively appear to have had only limited impact on 4Q17 sales.
Another reason for the drop in interest toward new iPhone upgrades among postpaid subscribers of the largest US carriers may be that people are simply satisfied with their current smartphones for longer periods of time than before. Currently, folks who say they are planning to use their phones for 2+ years, represent 34% of the people surveyed, says Cowen, which is a huge jump from their 23% share just a few years ago. Phones are getting too good to swap every year or so, it seems, and this might force manufacturers to reconsider the typical annual upgrade cycle at some point.