No more M2 memory cards
This article contains unofficial information.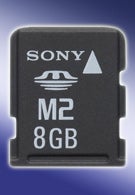 An interesting piece of news has just reached our ears. Based on a meeting with the company, TrustedReviews reports that
Sony Ericsson
is about to chuck its own
M2
standard for memory cards. So, which would be the new one the company is likely to adopt? It looks like the answer is the ever more popular microSD format. Great! This sounds quite reasonable, as the three newly announced Sony Ericsson phones- the Satio, the Aino and the Yari - are all equipped with microSD slots instead of the company´s proprietary standard. Moreover, the source also mentions that Sony Ericsson is looking at the possibility of using switching over to another universal standard as well – microUSB. Besides that, there seems to be more interesting information coming our way that cannot be revealed before Thursday. Intriguing, sin´t it? Could this be the first environmentally friendly phones that are about to be announced?
source:
TrustedReviews