Nexus S is captured in the flesh on film?
13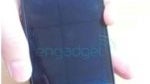 In a matter of only a few hours, we've been treated to a treasure trove of news regarding the mysterious device considered to be the successor the the legendary Nexus One. Although it was regarded to be mythical, the amount of news pouring out of late has been somewhat non-stop as we saw earlier today how Best Buy accidentally had an
advertisement on its site for the Nexus S for T-Mobile
– which later was taken down.
In addition to that, a rendered image of the handset was also found in the midst of its removal. However, the biggest piece of news surrounding this high-end device just makes it seem like it's for real and in the flesh – no longer just rumors to make us all wonder. In fact, alleged images purported to be the Nexus S in the flesh have been leaked and provides us all some insights to this unofficial handset. These leaked shots were actually taken about a month ago, so it's rather difficult to say whether or not this is the actual final production unit.
Regardless, things are surely going to heat up for Samsung as they seem to be on a roll with producing some big time handsets.
source:
Engadget
Recommended Stories