Nexus Q officially no longer for sale
14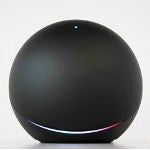 This day was basically inevitable, but it looks like it is finally here. It looks like Google is going to finally stop pretending that the company has any intention to sell the
Nexus Q
. It had always seemed unlikely that Google would really put much effort into the device though, because it always felt more like a proof of concept than a real product.
Even from its first appearance at Google I/O 2012, the Nexus Q didn't feel like a real product. The idea behind it was solid - an Android powered media device that could stream content, had HDMI out, and a built-in 25W amp, and be controlled by a group. Nothing wrong with that. The big issue was the price: $299. Products that had similar features sold for around $100, so the price was high. Then no word ever came about it after the initial batch was sold, so it seemed that the Q was destined to be a reference device for what Google wanted to see from other companies.
Since then, the Google Play product page had been labeled with "This device is not for sale at this time." But now, just over 6 months later, the Google Play product page has been changed to read "Nexus Q is no longer available for sale." That has an air of finality to it, and since we didn't see anyone take up the mantle at CES, maybe Google's attempt didn't work.