Nexus One's touchscreen has hardware limitations that affect its performance?
This article contains unofficial information.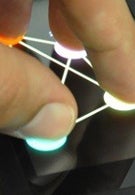 Recently there has been some
question marks
about the performance of the Nexus One's touchscreen and the poor performance of multitouch on the device. A controversial app designed to track your finger tips on the touchscreen shows problems at certain points, a problem not shared by the Motorola DROID (a different app that measures a device's touchscreen using different techniques shows the DROID and N-One with basically the same performance with multitouch). The main reason for this is that the Nexus One and the DROID use different touch sensors. The latter device has the ClearPad2000 under the hood for dealing with two finger interaction and gestures. This is a sensor that was first used back in 2007 by HTC and Android and Me believes that the sensor has been used in all of the Taiwanese based manufacturer's Android phones since. The ClearPad2000 works without a problem when supporting pinch-to-zoom in the browser, but when it comes to complex two finger movements used in games, the sensor seems to lose its way.
Diane Hackborn is an Android framework engineer. She says the problem is not the Android platform. She does mention that the DROID has a special code and it is this special code that Android and Me says is the reason why the latter out performs the N-One. Cyanogen, a forum member on the XDA-developers board (real name is Steve Kondik) found that "Interestingly there is a hack in the framework (which is enabled on the DROID, but not on the N1) that can be enabled by setting config_filter TouchEvents. With it disabled (the default) I get the axis-flipping problem. Enabling it fixes this, but there are still issues with the points "sticking" when they cross." So it would appear that the Nexus One as well as most HTC Android models are suffering from a software related problem that might be able to get fixed via a firmware update. Developers know now that they miust design games with the limitations in mind and to make sure that the two fingers don't crossover. In the future, we might see HTC devices-and Motorola as well-use the ClearPad 3000 as seen on the video below. This sensor supports true multitouch and supports up to 10 touches. As long as you're not using your fingers AND toes, that sounds just right.
HTC Nexus One Specifications
|
Review
Motorola DROID Specifications
|
Review
source:
xda-developersforum
via
AndroidandMe
Synaptics ClearPad 3000 Series from Synaptics, Inc. on Vimeo.