Nexus 7 said to be shipping in the next day or two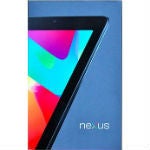 Multiple reports have come out from various retailers, including one bit of info that supposedly came straight from Google, and it looks like the wait for the Nexus 7 may be just about over as the tablet could start shipping in the next day or two.
First, word came out from UK retailer Ebuyer that the Nexus 7 tablet would be out for shipment starting tomorrow. We were skeptical, and tried following up, but got no response. Now, the Ebuyer website is saying that the tablet won't be available until July 19th, which seems more reasonable to us. At the very least, we wouldn't expect any retailers to ship before Google.
And, apparently, Google feels the same way. A Google support team member has been reported as telling
coolsmartphone
that no retailers are authorized to ship yet, but pre-orders through Google are in "pre-shipping" and that actual shipments should begin in the next day or two.
So, if you pre-ordered through Google, you may be seeing your tablet pretty soon, since Google has been known to use pretty speedy shipping. If you've ordered from another source, we can't say when your tablet will ship.