Nexus 5 drop test: will it survive?
28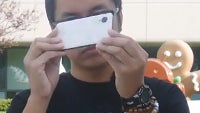 The
Nexus 5
, Google's showcase device for Android 4.4 KitKat, is now here and cruel-hearted gadget torturers have it in their hands for a drop test. Would the Nexus 5 survive being dropped on its back, bottom and front? Or would its Gorilla Glass 3 protected display shatter into pieces?
Android Authority has got a white Nexus 5 and has tested the phone's durability right in front of the Googleplex, next to the Android statues of cupcakes, gingerbreads and jelly beans.
We won't spoil it for you, but we should mention that the Nexus 5 features a non-removable battery and the back cover is not meant to be removed by the user either. However, unlike other smartphones like the HTC One, the construction of the new Nexus is not unibody. There are separate parts.
With no further ado, it's drop test time and the results are right below.
source:
Android Authority