Nexus 5 cases list October 31 release date, attract the snarkiest reviews
7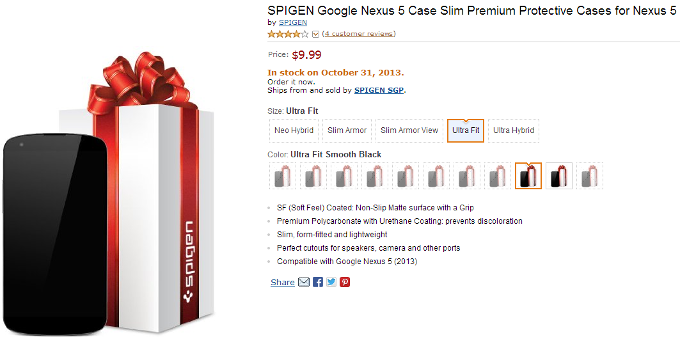 Spigen and a few other brands have listed their
Nexus 5
cases and screen protectors on Amazon already with a shipping date of October 31st. This jibes with a
mid-October announcement
and
launch in the last week of the month
we've heard rumored for the handset numerous times, unless the
FCC shutdown
throws a wrench in the unveiling event wheels.
It's not the first time case makers list their gear prematurely, before the devices have even been announced, on the basis of dimensions given them by the phone manufacturer beforehand, or simply guesswork. What's hilarious in Spigen's situation are the sarcastic reviews its ephemeral Nexus 5 slim fit and other cases have amassed already, weeks before the boys from Mountain View take the stage to announce the Nexus 5.
There are legitimate ones, which sound plausible, like "
I bought this case for my Nexus 5 test unit and it is very loose along the sides. I would wait until the official Nexus 5 comes out and more case types are available to try
."
Another one keeps it short and snarky: "
This fits very well around my vapor edition Nexus 5, as snug as a bug in a rug. a word of caution, the case adds weight to the phone, the phone weighs exactly 0.0 pounds with out the case, the case adds a few ounces to that 0.0 pounds
."
Our personal favorite review, however, is an exercise in sarcastic remarks as fruitful, as it is polished like one coming from a nuclear physicist. Kudos goes to G. Barry from San Jose!
I like my Nexus 5, but it has its quarks. Specifically, the design lacks symmetry. Overall, it seemed kind of unstable and couldn't hold a charge. Honestly, I kept having a nagging suspicion that my Nexus 5 had no mass.

I tried many methods to fix this. Most often, I would collide my Nexus 5 at high speeds with another Nexus 5 and study the results while sitting on my large Henredon couch. In the end, I felt like I was left standing alone in an empty field.

That is, until I discovered the SPIGEN Google Nexus 5 Case Slim Premium Protective Cases for Nexus 5! Discovering this case was both monumental and nobel. It has validated my mobile phone model and is a quantum leap over other cases. Now my Nexus 5 is both tangible and matters.

I just hope the price of this case remains stable and doesn't succumb to the inflation that seems to permeate throughout the mobile phone case universe.

I thank god in particle for this.