Next year's iPad might get an even sharper display, 2013 iPad mini expected to also get a resolution bump
16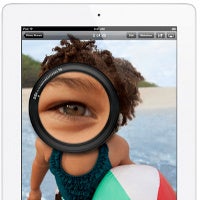 We're about to see the next Apple iPads in a matter of days on October 22nd, but rumors about next year's iPads have already started circulating. One of the industry's more reliable analysts, KGI Securities' Ming-Chi Kuo, now denies the possibility of Apple launching a larger, 12" tablet, and says that technology would allow Cupertino to make another huge jump in display resolution. The Apple iPad 6 is thus expected to get a
pixel
density that will be 30 to 40% higher.
"Contrary to speculation that next year's iPad next year may come in a 12" form, or larger, we think it will not change from the current 9.7" format as we think a 12" iPad would not provide a good mobility experience given today's technology limitations,"
Kuo first denied whispers on the grapevine about a larger iPad.
"In light [of] advancing Oxide and a-Si technologies, the PPI of iPad 6, which we expect to come out at end-2014, will exceed that of 2013's iPad 5 by 30-40%, which will offer more competent visuals,"
Kuo writes in a note to clients.
Does this make any sense in real life? Right now the 9.7" iPad comes with a resolution of the already impressive 2048 x 1536 pixels, or a pixel density of around 264ppi. That's already considered "Retina" by Apple's standards, but what would a further increase look like? If we were to have the same 4:3 aspect ratio at a higher-res, that could would work out to a theoretical resolution of 2880 x 2160, or around 371ppi. Coincidentally, this is just over 40% higher than the current density.
Another interesting piece in the research note touches on the iPad mini. The KGI analyst believes Apple will indeed bump the resolution of the iPad mini into "Retina" territory, something that we have to say seems like a necessary move given that rival tablets already come with higher resolutions. Next year's iPad mini however is likely to keep that alleged
"Retina"
display.
This all makes sense to us, but it's merely a prediction based on where technology is going so take it with the usual healthy grain of salt. Be it true or not, what do you think about the prospect of an even higher resolution on the 2014 iPad?
source:
MacRumors