Next-gen medicine – an app for iPad helps the fight with dementia
3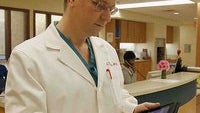 Dementia (originally meaning "madness", from Latin, "de"- without and "ment" - mind) is an austere loss of global cognitive ability in a healthy person, usually occurring from aging. Affected areas can be attention, memory, language and problem solving. You might be wondering what is this information doing on PhoneArena? Well, Cambridge Cognition and their new iPad app, Cantab, are here to the rescue.
It takes around 3 years for doctors to test dementia. This process is now reduced to 10 minutes with Cantab. The app is based on a technology, researched and developed at the University of Cambridge. Doctors are given test tracks scores for both functional impairment and mood and in virtue of them they get a better picture of what is going on with the patient and get under way with the treatment. Still, Cambridge Cognition wants to be stated, that Cantab is trying to help with the preliminary diagnosis, not a final one.
Other perks of Cantab are that it is accessible to patients, comes in 20 languages, and the ability to encrypt test results so that they can be safely included in the patient's file. As of now, 10 practices in the UK have already put the app into good use.
It's really astonishing how technology has made its way into our lives for the greater good nowadays.
source:
Mashable