Next gen iPhone being tested in San Francisco?
This article contains unofficial information.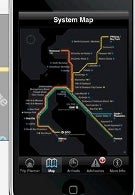 Analytics of iPhone commuter app developer Pandav show usage of an unreleased iPhone. The app used was a guide to the San Francisco train system called iBART. The company that provides the anlytical data, PinchMedia, breaks down usage by different devices. The information is reported to developers using identification numbers assigned by Apple. The id iPhone3,1 has been in use and written in Pandav's log since November and does not match up to any currently shipped iPhone model. The last released unit, the iPhone 3GS, is identified by the code 'iPhone2,1'. Pandav has turned this information over to MacRumors. On the latter's web site, it is also reported that the iPhone3,1 id was discovered in the phone's firmware back in August. This is the first time that it has been seen in the 'wild'. The site goes on to add that there are rumors that the next iPhone model will have a multi-core processor to improve performance, and that the new unit could have Verizon compatibility as soon as the middle of next year.
Apple iPhone 3GS Specifications
|
Review
source:
MacRumors