Nextbit Robin Smart Saver cloud service shuts down on March 1st
2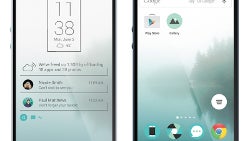 When
Razer announced it was buying Nextbit
early last year (January 30th to be precise), it marked the end of the Nextbit Robin. Released in August 2015, the Robin came with 100GB of free cloud storage in addition to the 32GB native storage on the phone. Photos and apps are automatically backed up to the cloud when the phone is in standby or on Wi-Fi. And when the amount of free storage space on the Robin dwindles to 2GB, apps not used often are sent to the cloud where they can be retrieved by tapping on the correct icon.
Last August,
the company announced that it was no longer backing up the Robin's warranty
and would no longer handle chat and phone support for the handset. Today, the other shoe dropped with Nextbit's announcement that the Smart Saver cloud service will close on March 1st. Nextbit Robin users have until April 1st to download their important files from the cloud, or lose them completely. To claim your files, you need to go to www.cloud.nextbit.com.
Any images in the cloud will not be recoverable after February 1st, which is when the company will pull the plug on its server. If you still have some important files and images up in the cloud, we'd suggest sending them back down to earth as soon as you can, before it is too late.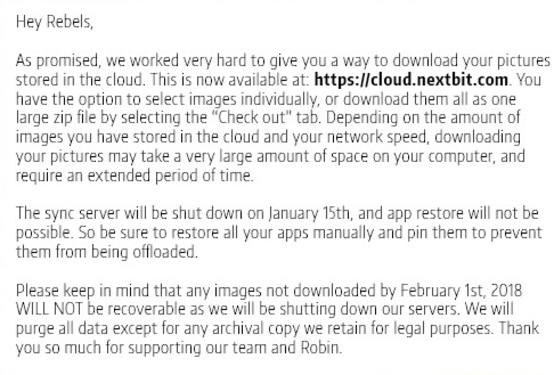 Nextbit announces that the Robin's Smart Saver cloud service will end on March 1st
source:
Reddit
via
TheVerge