News of weak demand for the Apple iPhone 5 hits Apple's shares overnight
25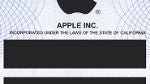 Those traders who have been short Apple shares are hoping that today is the day that the stock finally cracks $500. A short sale is basically the opposite process of buying low and selling high. Those who expect Apple to fall borrow the shares from a broker and sell it, buying it back at a lower price if the stock drops. So far, Apple has managed to find support everytime the shares approach $500. Thanks to a report in the WSJ that
the company has cut orders for parts
used to assemble the
Apple iPhone 5
, the shares are indicated to open lower Monday morning. The business paper said that
weak demand
for Apple's iconic smartphone is behind the drop in orders from Apple for displays and components.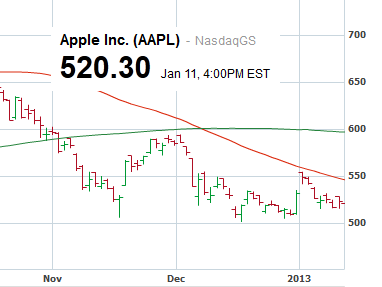 Is today the day that Apple's shares crack $500?
Apple's stock peaked at
$705.07
on September 21st, the day that the Apple iPhone 5 launched. Since then, the
Apple Maps fiasco
,
a shakeup in the boardroom
and the success of the
Samsung Galaxy S III
has led to a bit of a malaise as far as the iPhone is concerned, with the feeling that iOS needs an overhaul to compete with not only Android, but also the surging Windows Phone 8.
Earnings are due out on January 23rd and some analysts, including Brian White of Topeka Capital Markets, remain bullish on the shares.
White has a target of $1,111
on the stock. A very accurate call was made back in April by Elliottician Ramki Ramakrishnan who used the incredibly complex Elliott Wave analysis to
predict that Apple would hit $510
. At the time, the stock was at $608. We should point out that had you followed his advice and shorted Apple, you would have had to watch the stock go
$97 against you
at first.
With short sellers hoping that today will be the day that Apple cracks $500 on the downside, the shares are currently
bid at $502.60
less than four hours before trading is scheduled to begin in New York. The shares closed Friday at $520.30.
source:
YahooFinance