Newborn baby's heartbeat shared with relatives and friends thanks to Apple Watch
81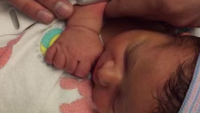 A video posted on YouTube by the parents of a newly born baby boy, shows the new father using his Apple Watch Sport to record his son's heartbeat so that he can then send it to relatives and friends throughout the planet. The Apple Watch captures the heartbeat with the sensors on the back of the device.
When the father placed his Apple Watch Sport on his son's tiny wrist and pressed down on the screen with two fingers, an animation of the baby's heart beat was created. Using the Digital Touch feature that allows two Apple Watches to communicate without a phone call or text, the father then sent out the heartbeat to friends and relatives who own the Apple Watch.
"Our first child was born and we used an Apple Watch Sport to send his heartbeat to our distant family members it was a really awesome experience that we couldn't have done without the Apple Watch."-Parents of baby born whose heartbeat was captured on the Apple Watch
The whole process is pretty quick and smooth. You can watch the baby's heartbeat get captured on the Apple Watch Sport by clicking on the video below. And if you get a bit emotional while viewing it, don't worry. That's our little secret.
source:
AlphaGlitch
via
BGR