NewEgg is selling certain AT&T Windows Phone 7 devices for free
0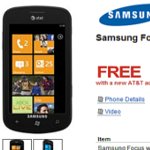 Not interested in paying out of pocket to purchase any one of AT&T's Windows Phone 7 smartphones? Well, you're in luck because NewEgg is throwing an enticing deal that's sure to keep your wallets filled to the brim since you're not required to shell out any payment.
Right now, NewEgg is selling AT&T's Windows Phone 7 trio, the Samsung Focus, HTC Surround, and LG Quantum, all for the price of free with your signature on a 2-year agreement. Generally, other online retailers would normally force you to choose the minimum 900 minute individual plan, but not with this one because you can even get the deal with their usual 450 minute plan.
In addition, NewEgg is throwing free standard shipping with FedEx – meaning that it might be a few days before you're united with your new purchase. Nonetheless, we'd imagine it's going to be worth the wait seeing that you're getting a fantastic deal any way you look at it.
source:
NewEgg
via
WP Central