New will.i.am wearable looks like a smartwatch you would have bought in 2013
8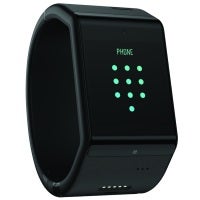 Rapper and entrepreneur will.i.am's first foray into wearable gadgets, the Puls, became the butt of so many jokes one could publish a number of volumes with them and live off the proceedings. It was genuinely awful, but bad press and worse consumer response didn't put off the
vis.i.onary
. His next shot at entering the tech game is The Dial, a cellular smartwatch that lets users call, text, and browse the Internet without a paired smartphone.
The wearable also sees the return of AneedA, Puls' voice-controlled personal assistant that was about the only functional aspect in the flawed $399 creation. It will let give you a degree of hands-free control and it comes with the ability to learn the user's usage patterns and tailor its responses accordingly.
aneeda a break!
In addition, The Dial features free music streaming powered by 7Digital, letting you tune in to over 20 million tracks. There's no extra subscription, no trial period, and streaming traffic gets written off. Good game!
Design-wise, The Dial doesn't look nearly as bad as the Puls, which was basically an oversized one-arm plastic shackle with an insecure magnetic clasp. However, it does appear nondescript and dated. It reminds us of the palatable, but clunky designs of early wearables like the Galaxy Gear smartwatch, which Samsung would rather you forget about* now that it has the refined and comfortable
Gear S2
on the market.
The Dial will be sold by UK carrier Three on a monthly instalment plan, which means owners will have to sign a second contract to use the wearable. Put next the smorgasbord of prettier and more functional Android Wear, Tizen, and the Apple Watch that are available contract-free, The Dial doesn't appear convincing.
*Seriously, the original Galaxy Gear is nowhere to be seen on Samsung's wearables website nowadays. We checked!
source:
Endgadget