New video shows what Apple's Watch OS would look like on an iPhone
17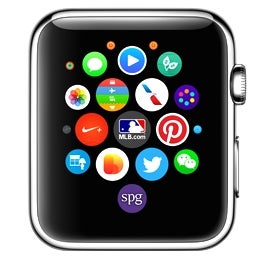 Last month, when Apple announced its Watch (pictured on the left), it also revealed Watch OS - which, although based on iOS, looks quite distinctive, thanks in no small part to the fact that it features round app icons, and is operated differently. The Watch OS introduces a different type of scrolling - a multidimensional one that automatically centers apps, while letting you zoom in and out.
iOS developer Lucas Menge wanted to know what Watch OS would look like on an iPhone, and created the prototype interface that we can see in the video below. Everything's pretty much just like on an Apple Watch, with the notable difference that the prototype interface includes labels for app icons. If you're a developer, you can get the prototype code for this at the source link below.
As a reminder, the Apple Watch should be
available in early 2015
, and
Tim Cook recently said
that the device would be a "game changer." The Watch will be sold for prices starting at $349, thus being the most expensive smartwatch yet.