New stunning 3D game for Android will let you fight for all the oil you can get
20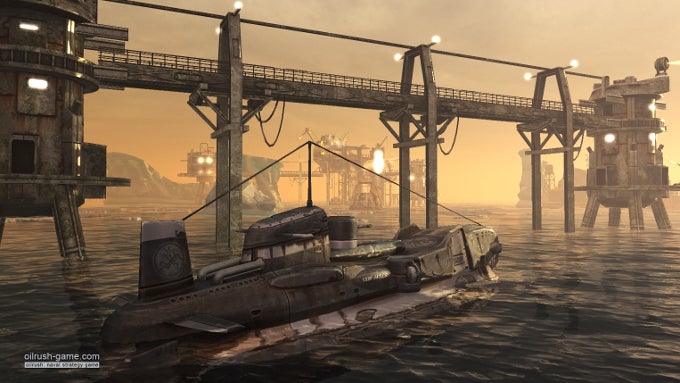 Developer Unigine Corp. has just announced that it will be bringing a new game to Android, called Oil Rush 3D. This naval strategy game utilizes Unigine Corp.'s own Unigine 3D engine and we have to say that it looks spectacularly well. Probably better than anything we've seen for mobile thus far. Oil Rush 3D for Android will be available starting in February, but it will be exclusive to devices equipped with Qualcomm's Snapdragon S4 chipsets for the first six months following the release. Actually, the exact supported chipsets seem to be the MSM8960, APQ8064 and MPQ8064. Congrats to those whose smartphones feature one of these.
Apart from next-gen visuals, Oil Rush 3D will also attempt to deliver a lengthy campaign with an engaging storyline, skirmish mode versus up to three AI opponents, varied environments, a tech tree, many different unit types and more. Being a strategy game, though, we feel that Oil Rush 3D will be best played on a tablet, since the on-screen controls and info, although being specifically optimied for touch, may prove to be a bit uncomfortable to use on a small screen. Just saying.
For those who don't happen to own a device with a Snapdragon S4 chipset of one of the above-mentioned times - don't sweat it, if you like the game you can get it for Windows, Linux or Max OS X right now.
What do you think, guys, isn't this one a beauty?
Here's some gameplay footage from the PC version of the game. The mobile version should be extremely similar.
source:
Unigine
Oil Rush 3D mobile strategy game is announced for Android
UNIGINE Corp. announced that Oil Rush, an epic naval strategy game, is coming in February to Android devices based on Qualcomm's Snapdragon S4 chip. The game - as well as a free demo - will hit the Google Play store and bring next-generation 3D graphics, hardcore depth and touch-native controls for mobile users. It is based on the proprietary multi-platform UNIGINE Engine and developed by UNIGINE Corp.
Oil Rush for mobile invites players to smash through raging waves of enemies while experiencing a thrilling story of apocalypse, technology, and battles that players have been enjoying on Windows, Linux and Mac OS X since the game's release in January 2012. Originally designed with touchscreen controls in mind, Oil Rush features unique gameplay that is native for the mobile platform and is based on group control. It avoids micromanagement of every single unit, offering strategic depth and focusing on fast-paced and swift attacks, smart defensive tactics, and development of a rich technology tree.
"Oil Rush is an exciting development because not only we provide a game that, I'd say, approved for the hardcore audience, but also because we expand the popular strategy genre to the Android market," commented Denis Shergin, CEO of UNIGINE Corp.
Key Features
Stunning 3D graphics, a next step for mobile gaming visuals
Varied environments in a flooded post-apocalyptic world, from the tropics to the Antarctic
Wide range of mission types to create a gripping experience
Strategic depth due to multi-level upgrade options and a balanced technology tree
Quick game mode for battles with up to three AI opponents
Long, full-featured campaign packed with challenging, story-based missions
Oil Rush will unleash the full potential of cutting-edge and flexible UNIGINE technology for flagship smartphones and tablets. For six months following release, the game will be available for Android mobile devices powered by the latest Snapdragon S4 chips (MSM8960, APQ8064 and MPQ8064), including Samsung Galaxy S III LTE, Motorola RAZR M, Google Nexus 4 and Lenovo IdeaPad, among others. Besides Android, the technical excellence of UNIGNE Engine, an all-in-one middleware, is available for a wide range of other platforms, such as Windows, Linux, Mac, iOS and PS3.
About UNIGINE Corp.
UNIGINE Corp. is an international company focused on real-time 3D technologies development. Over 7 years on the market, the company offers top-notch real-time 3D solutions for video games development, scientific research, simulation, visualization, serious games, virtual reality systems and more.
The company is also renowned for its performance benchmark products, such as "Heaven DX11 Benchmark", the world's first 3D benchmark with full support for Microsoft DirectX 11 and OpenGL 4.0.
UNIGINE Corp. is a registered developer of Apple Inc., AMD Inc., NVIDIA Corporation and Creative Technology Ltd. As a registered developer, UNIGINE works closely with its ecosystem partners in order to achieve the best level of performance and compatibility for all of our products. The company also develops technologies for Microsoft Windows, Linux, Mac OS X, Android and iOS and has a license to develop tools and middleware for PLAYSTATION®3 platform.
Website of UNIGINE Corp.: http://www.unigine.com/
More info about Oil Rush for mobile:
http://oilrush-game.com/mobile/