New purported blurrycam images of Shamu, the Motorola built Nexus show up, reveal little
17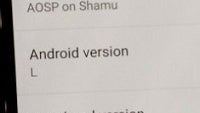 Whether by deliberate effort or circumstance, we know very little about what could be the next generation of Nexus devices. For a little while, there was doubt that the Nexus line of "pure Android" devices would quietly exit, stage right.
For the past few months however, the web has been stirring with rumors of a Motorola built device bound to be the next Nexus, which will likely not be called the Nexus 6 due to copyright and trademark claims related to the movie Blade Runner, and the book it is based upon, Do Androids Dream of Electric Sheep.
As far as rumors go however, they have been anything but consistent.
One rumor
points to a 1080p display,
another to a
Quad HD 1440p resolution panel. The screen might be 5.2-inches, or it might be 5.92-inches. Where rumors have been unified is the expected processing power, a quad-core Qualcomm Snapdragon 805 SoC and a beefy GPU.
Then there are these images that popped up in the discussion thread on Droid Life which sourced the recent photo of
a large Motorola device
parked next to an
LG G3
. These dark, fuzzy, and blurry (of course) pictures, are purportedly the front of the Motorola device destined to be the next Nexus. The original is just plain dark, but with an easily readable "About" screen for the device. Then someone else took that picture and adjusted the levels to see what else might be visible.
If the image is accurate (and authentic), the Motorola code-ring logo is visible in the top left, and you can tell a bit by the disposition of the hand that it shares some amount of phablet dimension. It is difficult to make an accurate assessment of actual size because hand sizes are as varied as the size of anything else, on anyone else, so make your own judgment.
sources:
Droid Life
via
Android Police