New prediction for Jelly Bean release almost gets it right
52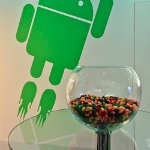 This is why we always say to take DigiTimes "predictions" with a big grain of salt. Just over one month ago, the company reported that because of slow adoption of Android 4.0 Ice Cream Sandwich, Google might rush out
Android 5.0 Jelly Bean in Q2
of 2012. We systematically
debunked that claim
, although the main reason against such a move was that it would do exactly the opposite of what Android 4.0 intended: unify the ecosystem.
Now, DigiTimes has a new prediction based on more talk from the same unknown industry sources. This time, the sources seem to understand the Android ecosystem a bit better, noting that while ICS has only captured about 2% of the market, that share will really begin to climb in Q2 when phones start shipping with ICS installed (once again pointing out how silly a predicted summer Jelly Bean release would have been).
In a further burst of
insight
, the DigiTimes sources finally realize that a "rapid shift of OS may not be healthy for the development of the Android ecosystem." And, with that new insight, the prediction has changed from a Q2 release for Jelly Bean to a Q3 release.
This is still a bit early in our estimation. Sure, it is possible that Google push up the release to September (the last month of Q3) in order to steal some release buzz from Microsoft's Windows 8 tablets, and to get in before Apple's big reveal of the next iPhone, which is likely to happen in October. However, Google seems to like that holiday season release window of November/December, so we'd still expect the company to stick to the same yearly schedule it has been on for the past few years.