New material could be used to produce self-healing phone screens that will repair cracks
10
These days, the tools used to protect smartphone screens from cracking upon impact include Corning's Gorilla Glass (now up to its 5th generation) and
the second generation Shattershield system
used by Motorola on the
Moto Z Force
. In the near future, phone screens could be made from a new material created by chemists at the University of California at Riverside and the University of Colorado.
While this material is transparent, conductive and stretchable, the most important thing is that it has self-healing properties. If the screen cracks, it will repair itself. In one example, the material was ripped in half and stitched itself back together in less than 24 hours. Rubber-like and soft, it reportedly is cheap and easy to make, and stretches to 50-times its original size. With its ability to conduct electricity, the material can be used to produce a scratch resistant, self-healing smartphone screen.
One of the researchers behind the project, Chao Wang, says that we could see this material used in the production of smartphones "very soon." But there are still plenty of kinks to work out, and the team must test the material in harsh conditions like high humidity. Other self-healing polymers have been unable to survive such a test.
Wang says that his interest in self-healing came after reading Wolverine comics all of his life. The comic book super hero has the ability to self-heal. Speaking of self-healing, you might recall that the
LG G Flex
and
LG G Flex 2
both launched with
a back cover that could self heal minor scratches
. Self-healing a cracked display is another matter.
"I've been researching making a self-healing lithium ion battery, so when you drop your cellphone, it could fix itself and last much longer."-Chao Wang, researcher
Those butterfingers who are always dropping their phone (you know know who you are) will be ecstatic once this material is ready for prime time.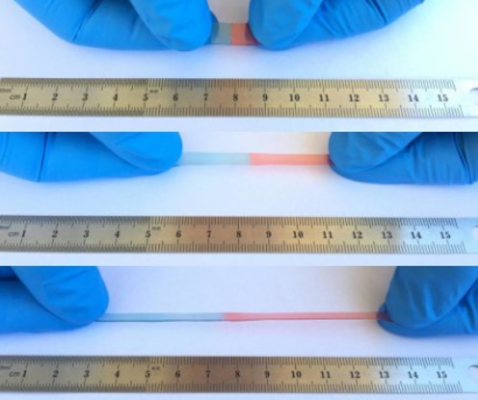 The self-healing material can stretch to 50 times its normal size
source:
ScienceDaily
,
UniversityofCalifornia
(Riverside) via
NYPost