New images of the Samsung Galaxy S6 and Samsung Galaxy S6 Edge; back glass and no microSD slot
99+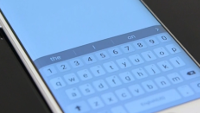 With Sunday's unveiling of the
Samsung Galaxy S6
and
Samsung Galaxy S6 Edge
drawing closer, a video report late Friday allegedly reveals new images of the two devices along with some rumored specs. Right off the bat, we're told that both phones are the same except for the curved glass that wraps around one of the sides of the Galaxy S6 Edge, and the slightly larger (by 50mAh) capacity battery on the latter device. The extra glass on the sides can be used for a clock or for "
minor tweaks
."
According to the leak, both phones will have a 5.1-inch display with a 1440 x 2560 resolution. An octa-core CPU will be under the hood with 3GB of RAM inside. Wireless charging will come as a native feature. The camera on the back of the Samsung Galaxy S6 (and the Samsung Galaxy S6 Edge) has an aperture of f/1.9. That means that the camera on both phones should be able to take great pictures under low-light conditions. The devices are said to have a more premium feel and both the front and back glass will be protected by Gorilla Glass 4. This seems to
confirm those rumors about the handsets sandwiching front and back glass over a metal frame
. This means that the battery is not removable. And for those who like to add extra memory, be aware that the new models will apparently not offer a microSD slot.
Other changes include one that we already tipped you to.
The Samsung Galaxy S6 will not be water resistant
like the
Samsung Galaxy S5
is. Samsung has decided to give up some of the features that were seen on past models in order to give the device a more premium feel. In addition, the fingerprint scanner has been revised and will be more like Touch ID with the way it operates. The new models will be thinner and narrower than the Galaxy S5, something we've already noted from previous leaks.
We need to remind you to take this report with a grain of salt. The Samsung MWC event
will take place this Sunday at 11:30am EST
and of course, we will be there to bring you all of the exciting news as the next-generation Galaxy S6 models are unveiled.
source:
UnboxTherapy