New iPhone to come with a 3.95-inch 640x1136-pixel screen, new connectors
59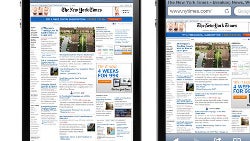 We don't know whether there's a direct correlation between Apple's stock price being on an upward run and the spike in iPhone rumors, but truth is, more and more whispers about the new gadget almost uniformly point to a release this fall, and a larger display. Now, 9to5Mac joins in with its own sources claiming that an iPhone 5,1 and iPhone 5,2 are undergoing pre-EVT (Engineering Verification Test) testing, and both models feature a
3.95-inch display with a resolution of 640x1136 pixels.
What does this mean? Currently, the iPhone 4S (just like the iPhone 4) comes with a 3.5-inch screen and a resolution of 640x960 pixels. If the rumor is true, the change will be only in the vertical aspect - the screen will become perceptively longer and narrower. The difference is 176 pixels on the Y axis, and overall the pixel density will even slightly improve to a brilliant 330ppi. This elongated screen will allow Apple to add one more row of icons, so we have not four, but five of them.
What changes, though, is the aspect ratio. So far, Apple has put its bets on a 3:2 aspect ratio, while the new testing models would introduce a 16:9 aspect ratio. Now, this is big, as it will allow for optimal video viewing. Currently, most video is encoded in 16:9 ratio, which translates into two black strips occupying unnecessary screen space to make up for the current 3:2 ratio of the iPhone.
But this could also mean trouble
for developers
. Unlike Android and others that explicitly support Box Layouts and other tools to size up or down apps to fit a screen, application on iOS are specifically designed with a static resolution in mind. A change in the aspect ratio could well mean that Apple will also modify the whole paradigm of iOS development in iOS 6 by adding dynamic layouts. And that already a big change, and something that makes us doubt whether Cupertino would want to change the screen size and resolution of the new iPhone at all. If it does, it could effectively create a kind of
"fragmentation"
- a term that has so far been delegated to other platforms.
Also, the rumor goes on to say that the new iPhone will come with a completely redesigned connectors. The 30-pin slot you're used to seeing will allegedly grow smaller, to somewhere between a miniUSB and a microUSB slot size. The new connector is said to eventually spread to all future iOS devices.
Of course, all of this comes with a huge shade of doubt. We're still allegedly months ahead of the new iPhone, so it might all change. Or not change. Or change, again. What's sure is that those rumors will keep on entertaining us for a while.