New iPhone 6 and iPad mini 3 concept from Martin Hajek shows the curvy future of Apple design
18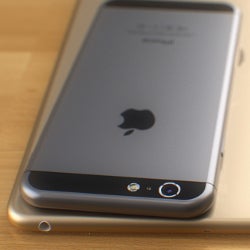 As we're getting closer to the advent of Apple's
iPhone 6
, more and more information about the upcoming phone shows up: we've already learned that the iPhone 6 will come in a 4.7-inch and a 5.5-inch versions, and feature a re-worked design. With dummies flying around and all the rumors, concept master Martin Hajek has decided it's time to wrap everything that is known about the iPhone 6 in one ultimate 3D model.
This render of the iPhone 6 reflects the latest rumors about the two strips of glass on the back of the gadgets, as well as the refined, rounded design.
In addition to the iPhone 6, Hajek draws a concept portrait of the iPad mini 3, showing how it could change in comparison with the current, second-gen iPad mini.
As we're used to seeing in Hajek's works, these concepts are so convincing you might mistake them for the real deal - they're not, of course, so keep this in mind - the images are merely an illustration of what the iPhone 6 and iPad mini 3 could look like. We, however, would not mind if the real thing looks much like those concepts. What about you, how do you like these concepts and how realistic do you think they are?
This is the best-looking iPhone 6 concept we've seen so far