New iPad meets its maker in violent encounter with HK53 Assault Rifle
14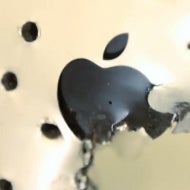 The tech assassins from RatedRR are at it again, fighting for the right to bear arms and shoot gadgets, as provided in the Constitution. We guess one way to stand out in the
3 million-strong army of new iPad owners
that emerged after the weekend is to take the tablet and pierce it with bullets from an HK53 Assault Rifle, and it's as good a way as any.
The new iPad held itself pretty well after the first few pieces went into its chassis, but its frame rigidity gave up at one point, and the
3.1
million pixels started begging for mercy.
What's interesting to see in those videos is how tough the glass on such tablets is - the bullets go through the screen leaving nice round holes, and the screen still doesn't crack from one end to the other, or shatter in small pieces. These ones it does when the iPad gets sneakily shot in the back through the aluminum casing, though. Oh, there's a little something for slow-mo aficionados as well.