New iPad data download speeds tested in San Francisco and Sydney, Australians needn't complain
5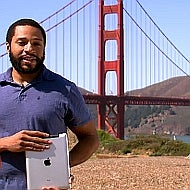 In a not very scientific test, the combined LTE/HSPA+ Qualcomm radio in the new iPad has been tested in four major world cities - San Francisco, Sydney, Singapore and London.
Needless to say this is just a fun experiment, and by no means the extensive network testing the carriers or some third parties are doind, but it's interesting to watch how Verizon's LTE pumped out those 28 Mbps in San Fran as if there is no tomorrow.
A commendable runner up was Sydney with 16Mbps on Telstra's network (what's with all
the complaining Down Under
then?), and London's Vodafone was pretty slow to deliver those data bits to the new iPad's wireless broadband radio.
Apple could very well use
Sydney's result in court come May
, since the consumer watchdog in Australia wants it to remove all "4G" references from the new iPad - 16Mbps definitely fit today's idea of 4G, regardless of the network tech used. Telstra's Next G network customers are reporting speeds in the 20Mbps realm with the new iPad, so Apple will have pretty valid arguments in court.