Google Play Store now allows users to set app download preferences
4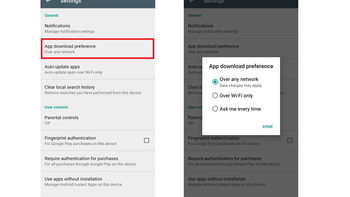 Downloading apps from the Google Play Store can play havoc with your monthly data cap. So if you head over to the settings on the Google Play Store, you'll see a listing for App Download Preference. Tap it and it opens up a box with three options. You can elect to download apps from the Play Store over any network, have apps download only over a Wi-Fi network, or be asked to choose every time. If you select the latter, every time you download an app, you will be reminded about the size of the download and asked if you want to load it over any network or only over a Wi-Fi pipeline.
If you choose to have your apps delivered via Wi-Fi signal only, the download will wait until you are connected to such a signal before it starts the installation process on your device. If you decide to have apps downloaded over any network, the process should start immediately even if there is no Wi-Fi signal around.
The preferences are only available for apps downloaded manually. Users cannot choose a preference for apps being updated with the auto-update setting enabled. You can check out the new preferences by looking at the image at the top of this article.