New book claims that Tim Cook offered Steve Jobs his liver
42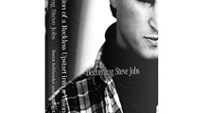 A book that will soon be in stores called "
Becoming Steve Jobs,"
offers some new revelations about the late Apple co-founder
who succumbed to pancreatic cancer in 2011
. Co-written by Brent Schlender and Rick Tetzeli, a portion of the book was posted on Amazon's "Look Inside the Book" before being removed. While the preview is no longer available online, some interesting information from the book has been revealed.
Perhaps the most interesting part of the book that leaked, dealt with the time that Tim Cook discovered that his blood type matched Steve Jobs' blood type. Both happened to have a rare type of the stuff circulating throughout their bodies. Cook had some tests done at a hospital and found that he was in good health. So he approached Jobs to offer him part of his liver. The Apple co-founder, who was in dire need of a new liver at the time, flat out refused the offer.
"Somebody that's selfish doesn't reply like that. I mean, here's a guy, he's dying, he's very close to death because of his liver issue, and here's someone healthy offering a way out. I said, 'Steve, I'm perfectly healthy, I've been checked out. Here's the medical report. I can do this and I'm not putting myself at risk, I'll be fine.' And he doesn't think about it. It was not, 'Are you sure you want to do this?' It was not, 'I'll think about it.' It was not, 'Oh, the condition I'm in . . .' It was, 'No, I'm not doing that!' He kind of popped up in bed and said that. And this was during a time when things were just terrible. Steve only yelled at me four or five times during the 13 years I knew him, and this was one of them."-Tim Cook, CEO, Apple
Another interesting passage discussed a possible acquisition of Yahoo that was being discussed by Jobs and his counterpart at Disney, Bob Iger. It is interesting to consider what Apple might have done with the myriad of patents and internet-related properties owned by Yahoo.
If you're interested in "
Becoming Steve Jobs
," (the book, not a transformation) it can be pre-ordered from Amazon.com or from iTunes. By the way, the sub-title is "The Evolution of a Reckless Upstart into a Visionary Leader," which gives you an idea of what the book focuses on.
source:
AppleInsider