New ads for the Samsung Galaxy S5 show off the phone's features
8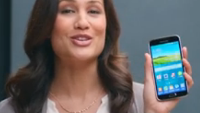 We've always expressed our preference for smartphone ads that show off the features of a phone, instead of an ad that doesn't tell you a single thing abut it. The ads for the OG
Apple iPhone
, for example, were informative because they had to be. The consumer needed a quick 30 second education on the iPhone's features. On the opposite side, look at the ads for the
HTC One (M8)
starring Gary Oldman.
The spot has a lot of "Blah-blah-blah-blah" in it
, but nothing of substance regarding the phone.
Now, Samsung is beginning to run a series of informative ads for the
Samsung Galaxy S5
that show how features like the selective focus on the camera works. Or how, with the battery down to 10%, you can make calls for another 24 hours thanks to the Ultra Power Saving Mode. Other ads include one for the 5.1 inch 1080 x 1920 display, and one for the S Health features.
This doesn't mean that Samsung won't be going after Apple again in future ads. But for now, the Korean tech titan wants to show you what its current flagship can do. You can check out the new ads by visiting the video slideshow, below.
source:
SamsungMobileUSA
via
AndroidCentral