New York MTA launches app for Big Apple subway riders with real-time information
2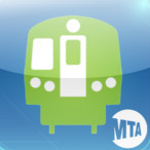 New York subway riders now have a new app that tells them when a train is expected to leave the platform, and when one is going to arrive. The app, called
MTA Subway Time
, brings real-time information from 7 lines (1, 2, 3, 4, 5, 6 and the 42nd street shuttle) to iOS users, with more coming in future updates. The app works with the countdown clocks that are tied to the MTA's central computers. The first update, expected out in 6 months to a year, will cover information for the L line which covers northern Brooklyn and Manhattan's 14th Street. The 7 line will be added by 2016 as it does take time for each line to get upgraded to the technology needed to pass along real time information.
While the app is only for iOS users,The New York MTA had been hoping to offer the same app for the Android and Windows platforms, but is now trying to spur third party developers to produce those versions of the app by giving them the data stream needed to develop the software. Since Apple Maps
doesn't provide transit directions
, the app is important for iOS users in the Big Apple.
Other areas of the country have similar apps available. California's Bay Area Rapid Transit System, or BART, released a web based mobile app and in 2007, BART released open format transit data that third party code jocks used to write their own apps. Meanwhile, the Massachusetts Bay Transportation Authority and the Chicago Transit Authority (the original name for the rock group Chicago, by the way) also support third party developers with real-time information.
MTA Subway Time is a free app available from the App Store.
source:
AppStore
via
WSJ