New Windows ads put away attacks and tout its unified design
35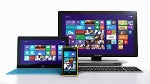 For a while there, Microsoft got pretty negative with its advertising. It came out with ads that were designed for nothing more than to either scare users to Microsoft products (
Scroogled
), or cherry-pick the benefits of its products in a general mismatch (iPad vs Surface). We're happy to see Microsoft's new ads are moving away from that strategy and showing off the benefit of a Windows world, like the unified design.
The new ads are all about the new unified Windows design. Whether or not you like the Metro/Modern UI, the fact remains that the interface is the same from phone to tablet to desktop, which creates a very compelling experience for users. If you expect something to work a certain way on your phone, it will do the same on your laptop (assuming you have a touchscreen). And, we know that Microsoft has the unified core in place, so it's possible that we'll be seeing more convergence in apps as well in the future (though it seems like that will be coming with
Ubuntu Touch
before Microsoft gets there.)
This is the kind of advertising we like to see, because Bing and the Surface do have valuable features and benefits, just like most Microsoft products, but when you run negative ads, it tends to just highlight the fact that you're lagging well behind in the competition instead of showing why your products are worth a customer's time, and why your mobile platform is on the rise.