Energizer Universal Multi-Port Charger hands-on
1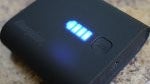 After double checking everything I packed for CES, I was horrified to find that I forgot to bring along a wall charger – you know, one of those necessary items with a USB port on one end that plugs into the wall. Seriously though, I was livid knowing that I was going to now rely on the USB ports on my laptop to charge my four smartphones and tablet. Then again, there's no way for my iPad mini to charge via the USB port on my laptop. Just when I was about to lose all hope, I reminded myself that I brought along the
Energizer Universal Multi-Port Charger
.
With this all-black squarish gizmo, it's packing a modest
5,000 mAh battery
with two USB ports for simultaneous charging. In fact, the two USB ports are capable of delivering a total of
15W output
. Even though both can technically muster up 10W of juice, when the two are being used simultaneously to charge devices, only one is putting out 10W, with the other at 5W – thus giving that total of 15W.
Looking at the main façade of the Energizer Universal Multi-Port Charger, there's a recessed button that lights up 4 LEDs to indicate how much juice is left. Covered in a
soft touch matte
coating, it maintains a very clean appearance at all time, but after spending some time in my backpack, I notice some parts on the edge started to peel. On one side, there's a microUSB port to charge its internal battery – while on the opposite, we find the two USB ports used to charge our devices. So how do you activate the charging process? Easy enough! All you have to do is merely connect your appropriate USB charging cable to it, and voila, it's
smart enough
to know that something is connect and requires juicing.
Switching up between an iPhone 5 and a Samsung Galaxy S III, the Energizer Universal Multi-Port Charger was able to charge them both to completion – with a little bit more juice left to spare. Even better, the 10W output is able to charge an iPad mini in a timely manner – especially considering I forgot to pack the wall charger. For
$76
, there's a decent amount of value in it, but then again, it's not quite as versatile or as beefy with its battery capacity as other alternatives we've checked out.
Other battery packs to check out