Bracketron Universal USB Power Dock Pro Flex hands-on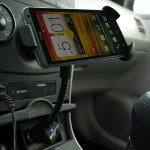 Here at PhoneArena, we've seen our fair share of
various docks for smartphones
, but sometimes, some are simply too inconvenient to use – mainly due to the fact that they're rather distracting to operate. For example, we like how some docks suction to our front windshield, however, we find ourselves having to reach over and extend our arms to interact with our device.
For those of you that happen to have a car charging port nearby your center console, the
Bracketron Universal USB Power Dock Pro Flex
will lessen some of the frustrations. Without a doubt, we like how it's a lot more accessible, as it firmly stays within our reach. Normally, docks that connect to the car's 12V charging port tend to sip up the previous flow of electricity to itself, but with this, it shares the connection thanks to the
available USB port on it
– so yeah, pop in the appropriate USB cable from your device, and you'll be juicing simultaneously.
From our experience, the dock is able to accommodate smartphones with screen sizes up to 4.7-inches – such as the HTC One X or HTC EVO 4G LTE. Unfortunately, anything beyond that, like the Dell Streak or Samsung Galaxy Note, they won't be accommodated. Still, it's able to keep our device firmly in place, while its
adjustable neck and rotating pivot point
allow us to position it to the perfect view. However, the biggest thing we have to admit about it, is the fact that we're not straining over trying to interact with it.
For those if you interested in checking it out, the Bracketron Universal USB Power Dock Pro Flex is available right now online and select retailers for
$34.95
, which isn't bad seeing it's not tied down for use with one specific device.