New "Pi" wireless charger will top off your phone from up to 12 inches away
18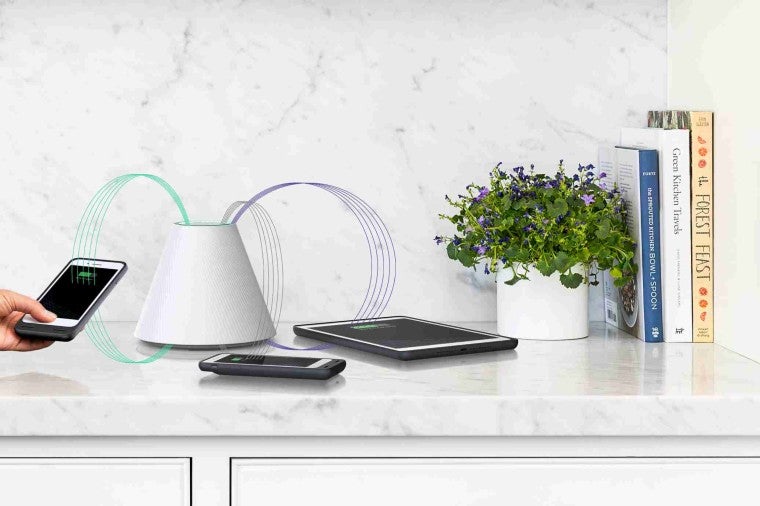 Apple's new
iPhones
might have given a PR boost to the wireless charging approach, but any mobile enthusiast will tell you that the technology has existed for some time. Still, wireless charging has a long way to go before it is perfected. Qi, one of the most widely-used standards of today still requires users to place their device directly on a pad and wait things out until it is charged.
Of course, there are companies out there who want to shake things up. A new startup called Pi claims to have developed a product that allows for truly contactless wireless charging. Its eponymous cone-shaped charging station is based on the resonant induction technology present in the Qi standard, but it eliminates the need for a charging pad. This is achieved via a beam-forming algorithm which allows the station to control and shape the direction of magnetic fields.
Users will be able to replenish the battery level of their smartphone or tablet by simply placing it within a foot (30 cm) of the Pi station. Up to four devices can be charged at the maximum speed of 10W. Adding more gadgets is possible, but the overall charging speed will slow down as a result. Qi-enabled smartphones like the
Samsung Galaxy S8
/
S8+
,
iPhone 8
,
8 Plus
, and
X
will be able to work with Pi without any special accessories, but other handsets will require a special Pi-compatible charging case.
It is certainly possible for this technology to be integrated into future smart speakers like Google Home or Amazon Echo, but the company will be introducing a stand-alone product for starters.
You can expect Pi to hit the shelves at some point in 2018 with a price tag south of $200. However, the charging station is already available for pre-order on Pi's website. The first 314 early adopters will receive a $50 discount code, so feel free to visit this link if you're interested in owning such a device.