New PhoneArena Feature – My PhoneArena
9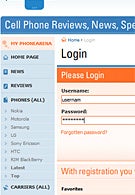 https://www.phonearena.com/
We've just launched yet another new feature, called My PhoneArena. Using the button in the main menu (pictured right), you'll be able to register (or login, using your current forum registration information) and take advantage of the new functionality. Our system is still in its early age, yet you have powerful options such as:
Favorites
will allow you to save your favorite phones, news, or reviews so you can easily find them whenever you need without having to browse through our extensive database.
will track the updates we've made to the site (new phones, news, or reviews published), since your last visit. Upon your return, you'll be able to easily see what is new and read the information you want in just a few clicks.
We hope you will enjoy the new feature. However, please have in mind that these are the baby steps of the system, so there may be some minor errors. Please feel free to notify us as well as give us suggestions, on what you would like to see, by using the linked form (click).
Thank you,
PhoneArena Team
?[img