New Nokia Windows Phone codenamed "Martini" in the pipeline
43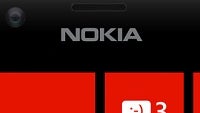 Hopefully this is the beginning of what will be a steady stream of information about upcoming Nokia Lumia Windows Phone devices since MWC was reserved for the new
Nokia X
line-up.
Today it was leaked to keep an eye open for a new Windows Phone Blue handset from Nokia, codename, "Martini." That is basically all we know right now unfortunately.
Microsoft's //Build/ developer conference is coming in one month and it is widely expected that in addition to the
introduction of Windows Phone 8.1
, there will be a number of new Windows Phone devices unveiled to ring in what will be a huge update to the platform. It stands to reason that we will see Martini make its debut with other Windows Phones, including perhaps the
Samsung device known as Huron
.
Spec-wise, we have no indicators as to what the Nokia Martini will be and we do not know where it will sit in the hierarchy of devices – that is, will it be a hero device or mid-level piece of equipment. April may be a little too early to expect a successor to the super-camera packing
Nokia Lumia 1020
, but certainly not too early to see a successor to the slim and fancy
Lumia 925
.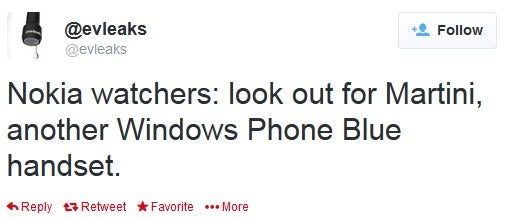 The timing of //Build/ is going to apropos not just for maintaining the momentum of the Windows platform as a whole, but it should also mark the very beginning of
Microsoft completing its acquisition
of Nokia Devices and Services. That said, it is entirely possible we see a device meant to be the flag bearer of that new arrangement.
What are you hoping to see come out of //Build/?
source:
@evleaks
(Twitter)