New HTC One (M9) concept render flaunts a streamlined chassis
24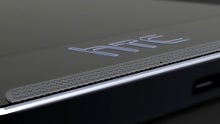 When the HTC One (M8) launched earlier this year, it had all of the specs that you would expect from an early 2014 top-shelf handset. That included the 5-inch screen with a resolution of 1080 x 1920, the Snapdragon 801 processor, 2GB of RAM and a 128GB microSD slot to go along with 32GB of native storage. But like sands through the hourglass, time continued to march forward, and the specs that were once cutting edge, are gradually becoming upper mid-range now.
Enter the
HTC One (M9)
, or whatever the company might decide to call its next flagship phone, as there are rumors
it might change the naming scheme this time
. How will it look like? Well, take a look at the One (M9) concept below, and tell us what you think about how realistic it seems. In terms of specs it's anyone's guess, most likely a larger QHD display could be in store, a Snapdragon 805/808/810 chipset, and perhaps a higher-resolution Duo Camera, too. In any case, in terms of design HTC has a winning combo with the One (M8), so the One (M9) probably wouldn't stray much farther away from that.