New Google Maps video shows Google intends to remove the app drawer (update: not really)
79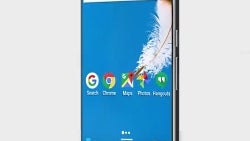 Update: Google reached out to another website that reported the story. It confirmed that the Google Maps video represents an inaccurate version of Android's UI and it shouldn't be taken as preview of what's to come.
According to the most recent intel, the next major Android version will
discard the long-standing app drawer
in favor of placing all apps and folders on the homescreen, iOS style. While Android Marshmallow still has an app drawer, some Android phone makers like Meizu, Xiaomi, Samsung and LG have either dealt away with the app drawer completely, or gave users a choice of disabling it. There's clearly an anti app drawer movement in the operating system's inner circles, and by the looks of it, Google is ready to take the lead.
In the newest Google Maps video, the placeholder phone running the navigation app on a stock Android build doesn't have an app drawer. Users are already firing questions at the Big G, but those at the heart of Android seem to prefer keeping the truth a surprise for now. Still, at least two separate sources that spoke with fellow mobile tech website Android Authority say the app drawer does not appear on early, pre-release versions of Android 7.0. And if the video does depict Google's vision for the near future of Maps and Android, said vision spells doom for the app drawer.
Of course, this doesn't mean the app drawer will be dead and gone once Android N arrives on shore. Google will probably let the user choose whether they like their experience drawer-less or not, which will probably do little to fend off some users' jealousy that Android is picking up one too many clues from iOS's design. We'll learn soon enough, for we expect to see Android N's developer preview in action during the annual Google I/O developer conference. This year, the event will run from May 18th through May 20th at the Shoreline Amphitheater in Mountain View. The final Android N release will probably roll out sometime in October.