New Copy and Paste functions for BlackBerry Storm as OS .112 leaks out?
6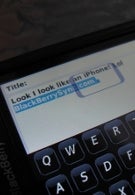 A good boxer will discover his opponent's weakness and continue to jab away at it until he is victorious. The BlackBerry Storm has taken one of its strong points vs. the iPhone3G, cut and paste, and has apparently improved upon it. Instead of using multi-touch to highlight the text that you want to copy or edit, the user places his finger on the area that is to be edited and a gray, rectangular box appears. The box scrolls around with your finger to allow you to target the exact text and once that is done, you press the appropriate button and viola, you are done.
At the same time, we can tell you that just a few days after we
wrote about
the latest unofficial OS for the Storm 9530, another leaked version has appeared. The new upgrade is labled 4.7.0.112 and once again, because it is not coming directly from RIM or Verizon, we caution you that it is risky to download it on your Storm. However, if you did successfully upgrade your Storm to .112, let us know what changes you've noticed.
BlackBerry Storm 9530 Specifications
|
Review
source:
BlackBerry News
via
EngadgetMobile