New Apple iPhone models use half the bandwidth for FaceTime thanks to H.265 codec
51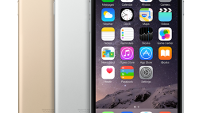 A little more than two years ago, we told you that
the H.265 codec was coming to mobile phones
to replace the current H.264 codec that was then (and still is) employed for video playback on mobile devices. As it turns out, Apple is leading the way on the
Apple iPhone 6
and
Apple iPhone 6 Plus
, with the use of H.265 for coding and decoding of FaceTime over Cellular video. The phones also support the older H.264 codec.
The advantage to using the new codec is that it requires
half
the bit rate that H.264 needs, to offer the same quality videos. First released as a draft standard by the Motion Pictures Expert Group (MPEG) in 2012, H.265 has yet to become widely used on consumer devices. It is speculated that the Apple A8 SoC could contain a specialized encoder/decoder module.
Some experts believe that the use of the H.265 codec could give Apple an leg up over its rivals when it comes to mobile chat. Signals Processing expert Matthew Fleming says, "
This has the potential to give Apple a serious advantage in the mobile video calling domain where bandwidth is at a premium
."

Apple is using the H.265 codec on its new phones
source:
AppleInsider