New 28nm Snapdragon chipset sampling in June, promises a third of the current power conumption
16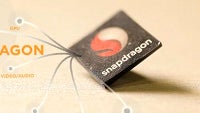 Qualcomm missed the dual-core craze in a way, since
NVIDIA Tegra 2
managed to get in to phones and tablets by the time the third generation Snapdragon entered the sampling stage. Granted, nothing says
system-on-a-chip better than Snapdragon
, which integrates every radio you can think of, including the baseband modems in the silicon, but the Scorpion core is still heavily-modified Cortex-A8, unlike the Cortex-A9 chipsets of NVIDIA, Samsung or Texas Instruments.
NVIDIA will be beating everyone to the punch again at the end of this summer, with a
quad-core Kal-El chipset, which got demoed on video at Computex 2011 today
. Qualcomm, however, is pushing along with a new core,
called Krait, for the fourth generation Snapdragon
, which should go against chipset with the next Cortex-A15 architecture from ARM. Qualcomm said that this chipset is
on track to start sampling in June
, and should be available by the end of this year.
Qualcomm's version is remarkable with its
28nm production process
, and will probably be the first mobile chipset to break that threshold. Such an efficient method allows for more transistors and less power at the same time. Qualcomm claims
65% reduction in the chipset's power consumption
, compared to current chipsets, which is jaw-dropping, and should go a long way towards squeezing extra working hours out of our smartphones. Not to mention 2.5GHz maximum clock speed, 150% increase in performance, and the fact that the Krait core will appear in single, dual, and, yes, quad-core APQ8064 version. We can't wait.
Given the aggressive 28nm goal, Qualcomm might mean the chipset will be available to manufacturers by year-end, rather than go in actual devices you can buy, but we'll wait for more clarity on that matter. For more information on the currrent and future multicore mobile chipsets you can read our in-depth article
here
.
via
AndroidandMe
Recommended Stories