Neptune Pine is a 2.4-inch standalone Android-based wristwatch
23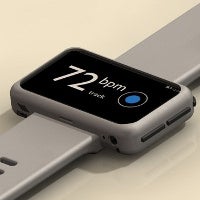 'Wearable computing'
has been one catch phrase that has long promised to become more meaningful with real devices from the biggest tech companies, and now that sources like the Wall Street Journal have corroborated rumors of an upcoming iWatch by Apple, here is another fun upcoming device, this time based on Android.
The
Neptune Pine
, as it is called, is a stand-alone device that you can plug your micro-SIM card in. Coming with a
2.4
-inch screen that stretches the limits of wristwatch convenience, you get a modified version of Android called Leaf OS. In it are basic apps like clock, phone, camera, mail, maps, browser and so on. You also get apps like a heart rate monitor.
The gadget can connect with others using Bluetooth 4.0 and it sports an 800mAh battery. At least that's the plan. It's not yet real, and the developers will have a hard time actually bringing this to market.
But with others like the Pebble smartwatch being extremely popular with customers, and with the big names in the industry like Apple obviously exploring the possibilities of a smartwatch, it is an interesting prospect.
source:
Neptune Pine