Neptune Duo is an autonomous smartwatch with a twist. Rocks Lollipop, looks very interesting
16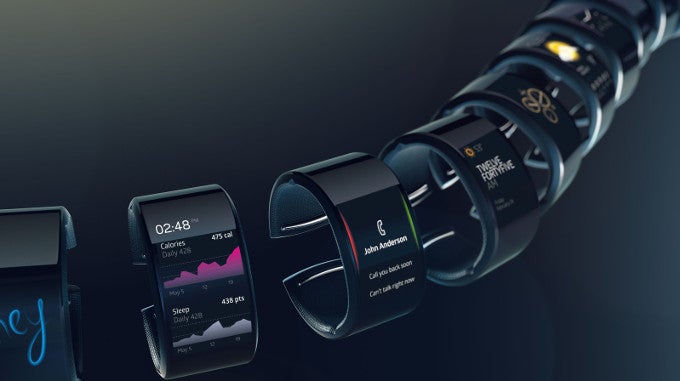 Still not sold on smartwatches? The wearable gadgets are having a hard time to break through to the hearts of most users, as their appliance just doesn't seem to offer the value that would warrant a $300+ price tag. The main issues with most smart timepieces are that they have far too small displays to be useful for anything but notification checking (and we can already do that by pulling the phone out of our pocket), and that their "smart" functions need the watch to be tethered to a smartphone in order to work.
Now, Samsung and the less famous Neptune tried another angle by releasing their own smartphone-smartwatch mixes – respectively, the
Gear S
and the
Pine
. These are wearables that rock a smartphone-oriented operating system (in Samsung's case – Tizen, whereas Neptune used Android 4.1), larger screens, and are loaded with hardware, which would be likened to "entry-level" class, if it were on a handset. Said smartwatches can take a SIM card, connect to the Internet autonomously, make calls, and the Pine even rocks a front-facing and a "rear" camera!
These two devices, however, were met with another set of user-repelling features – to house a 2" display on the Gear S and a 2.4" one on the Pine, the wearables needed to be encased in rather large bodies, meaning they end up looking much bigger than we're used to seeing, plus – they still had rather small batteries – 300 mAh on the Samsung and 810 mAh on the Pine.
Well, here comes Neptune again, with a set of devices to remedy these ills, and possibly point to a new direction for wearables. The Neptune Duo is a smartwatch / remote combo kit, which turns things around – the watch is an autonomous unit – like the Gear S and the Pine – and, in this case, it's the "smart" one of the two. The remote is just a "dumb" screen, which needs to be connected to the wearable to function – it offers easier navigation through the interface, handset functionality, and cameras.
The watch is called the Neptune Hub, and has a 2.4" display. This time around, it's shaped more like a band, which helps with the device not looking too bulky (but still appears fairly large). It is powered by a quad-core CPU, supports LTE, Wi-Fi, GPS, Bluetooth, and NFC, and comes with Android 5 Lollipop, which has been customized for the needs of the HUB's small screen, and will seemingly offer some interesting features – on the promotional video, we can see that the watch will support handwriting over the display, in order to be able to type messages.
The handset, called Pocket screen, sports a 5" 720p display, 8 MP LED flash-equipped rear- and 2 MP front-facing camera, and is equipped with all the speakers, vibrators, and microphones you'd expect from a phone – it's just that it's not a phone per se, rather – an extension for the Hub. It also has a 2,800 mAh juice box, and, if you are wondering why a companion handset would need such a large battery, here's the answer – you can use it as a portable battery for the Hub. Neptune boasts that, with the two devices' batteries combined, the user gets a total of 3,800 mAh capacity, which would, according to the company, last "a few days of normal usage on a single charge".
The Duo is scheduled to ship some time in late 2015, but Neptune is offering users to reserve a set right now. The retail price will be $798, but pledging a certain amount of money now will grant early birds a discount. Here are the reserve / pledge tiers:
Reserve for $0 – cost at shipment $798; no savings
Pledge $49 – cost at shipment $649; $100 savings
Pledge $199 – cost at shipment $399; $200 savings
Pledge $498 – cost at shipment $0; $300 savings
Have you been holding back on purchasing a wearable, waiting for an autonomous smartwatch to grab your attention? What do you think of this one?