National Enquirer says Steve Jobs has weeks to live, video confirms his trip to cancer center
44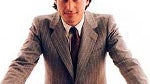 According to a story in the National Enquirer, Apple CEO Steve Jobs may have only 6 weeks to live. The tabloid quotes a critical care physician from Boca Raton Florida who studied photographs of a frail and gaunt looking executive as he walked out of the Stanford Cancer Center. Dr. Samuel Jacobson told the Enquirer, "The poor guy! Judging from these photos, he is close to terminal. I would say he has six weeks." Doctor Gabe Mirkin, board certified in four specialties, concurred. After looking at the same set of photos, he said, "He definitely appears to be in the terminal stages of his life (judging) from these photos."
The Apple co-founder was photographed entering and exiting the Stanford Cancer Center, the same place where Patrick Swayze received treatment for his pancreatic cancer. We recently
reported
that Jobs was receiving additional treatment at the center. According to the Enquirer article, the type of pancreatic cancer that the Apple executive is allegedly stricken with is called a neuroendocrine tumor which is a slower moving cancer than the one that took the life of Patrick Swayze in 2009 and Michael Landon in 1991. But only 4% of patients stricken with any form of pancreatic cancer live longer than five years.
We can only hope that the treatments that Mr. Jobs is receiving are working.
source:
NationalEnquirer
,
YouTube