Microsoft has first ever quarterly loss after massive one-time charge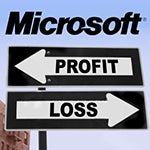 Microsoft had the misfortune of announcing their quarterly numbers at roughly the same time as Google announced theirs – unfortunate if only because it's going to draw a disparaging contrast. While Google exceeded analyst expectations, Microsoft posted their first quarterly loss, mostly due to a one-time write down of $6.2 billion dollars for the their inability to turn a profit from advertising company aQuantive that they purchased in 2007.

Putting aside the one-time charge for aQuantive, Microsoft would otherwise have managed a $5.3 billion dollar profit on record revenues of $18.06 billion, which is good but not quite as good as the $18.13 billion Wall Street was expecting. Still, aside from the embarrassment of completely writing off an acquisition that cost you more than $6 billion, the numbers aren't bad, especially since Microsoft is expecting revenue to jump in the second half of 2012 with the release of Windows 8/RT/WP8, as well as their Surface tablets.

One interesting mobile-related note; Microsoft's Entertainment and Devices division (read: Xbox) recorded a $263 million dollar loss that was apparently not due to the Xbox at all, but rather the fact that the $250 million that Microsoft pays out of pocket to Nokia each quarter comes out of that division. Apparently even Xbox revenues aren't a match for shelling out a quarter billion dollars every three months just to keep someone exclusive to your mobile OS.



source: Microsoft